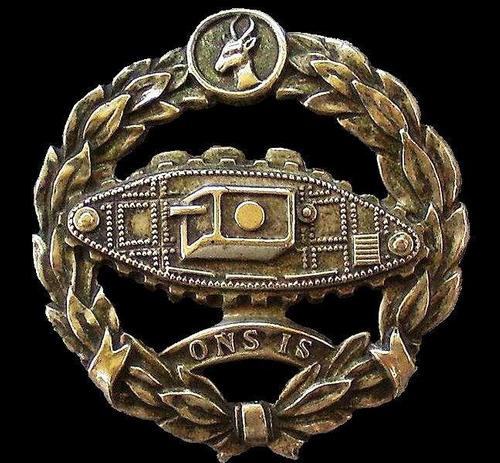 VISION

To bring together serving and former armour soldiers as well as interested persons and parties

MISSION

Promote camaraderie, cohesion and comradeship among serving and former armour soldiers and
to maintain the armour heritage and traditions and to facilitate the rendering of mutual support
among these members.

HISTORY

The Association was constituted at a meeting of members of the SA Armour Corps, held in the
Cinema Hall of 1 Special Service Battalion in Bloemfontein on 30 April 1993 under the
Chairmanship of Lt Gen J.R. (Jack) Dutton (Ret), SSAS, SD, SM, MMM. A draft constitution was
accepted and he was appointed as the first National President, with Brig Philip Schalkwyk and
WO1 Jan Holliday as the two Vice Presidents. Gen Dutton later became the Honorary President,
with the title of "Master Crew Commander".

At the Association's inception, the National Council foresaw that it would actively seek to initiate
and support two worthy causes, namely an Armour Museum and the writing up of the Armour
history. The idea of establishing a Museum and a Research Library for the South African
Armoured Corps (SAAC) was hatched early in 1994 and was officially approved by the Chief of
the SA Army (Lt Gen R. Otto) on 12 October 1995.

The Museum was officially opened by the Chief of the SA Army on 13 September 1996, to
coincide with the 50th anniversary celebrations of the South African Armoured Corps.

The National Council of the Association has embarked on Project Armour Heritage with the view
to funding, writing, editing and, ultimately, publishing and distributing a book to be called, "The
Black Beret - Story of the South African Armour." It is the Association's vision to release this
authoritative book, reflecting the background and history of the Armoured Corps, by the end of
2011.

While a considerable number of very important and informative books on South Africa's Military
History through the years, as such, are presently available, it is the Association's contention that
"The Black Beret" will, by its very nature, offer the reader a focussed and instructive insight into
the role that the Armour, in various forms, has played within the UDF, SADF and SANDF during
the last ninety years or so.