| | |
| --- | --- |
| Armaments of the South African Armoured Corps | |
0000013
The Olifant mk1B main battle tank is armed with the 105mm L7 rifled cannon main gun. The gun on the mk1B is fitted with a thermal sleeve for sustained accuracy in firing. The mk1B carries 68 rounds of 105mm ammunition.

The tank is also fitted with a 7.62mm general purpose co-axial machine gun and a 7.62mm anti-aircraft machine gun.
Credit to: http://www.army-technology.com/projects/olifant/

OLIFANT ARMOUR RECOVERY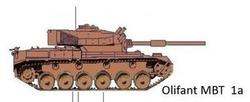 OLIFANT MBT 1A



OLIFANT MBT 1B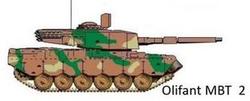 OLIFANT MBT 2



OLIFANT SHONGOLO MAN TANK TRANSPORTER